As one of the fastest growing countries in Southeast Asia, Indonesia is a key market for companies looking to expand in the region. But it's not just the country's GDP growth that makes it attractive, it's also the rapidly growing internet penetration rate. According to a survey conducted in late 2016 by the Indonesian Internet Service Provider Association, there are now 132.7 million Internet users in the country, up from 88 million users in 2014, amounting to 51.8 percent of Indonesia's total population.
Naturally this is leading to a massive growth in the use of and spending on digital products and services. According to The Straits Times article dated 27th March 2016, Indonesia's Information and Communications Technology Ministry predicts Indonesia's e-commerce market reach US$130 billion in 2020. With a predicted annual growth of 50 per cent, this will make it the third highest ecommerce market in Asia, only surpassed by China and India.
This presents a prime opportunity for companies looking to provide digital products and services in Indonesia and capitalise on the country's rapid growth. Yet doing so raises important questions regarding choosing the ideal data centre provider, in terms of business requirements and partnering for reliable, long term growth.
Choosing the Ideal Location for Your Data Centre
To better understand the priorities companies have when it comes to choosing a data centre provider in Southeast Asia, the IT research and advisory company 451 Research surveyed 512 multinational corporations headquarters in North America, Europe, and China. This revealed that the top factors, ranked in order of importance, when choosing the location of a data centre are:
Regulatory environment
Geographic location
Local workforce
Market maturity
Electricity
It is largely based on these priorities that Singapore is becoming increasingly well established as an ideal data centre hub and launch pad into the region. The country is already a gateway for 16 international submarine cable networks, connecting from the East to South Asia, as well as other regions such as the Persian Gulf, the Mediterranean, Europe and US, making it one of the most connected countries in Southeast Asia. Other factors that contribute to Singapore being an ideal choice include the country's stable political system, conducive regulatory environment, reliable power supply and freedom from natural disasters.
Then in terms of market maturity, according to Canadian research and consulting firm Structure Research, Singapore has seven new data centre expected to go online over the next three years to support growing co-location activity. This is compared to Hong Kong which has only three new facilities planned during the same period.
This growth is largely due to the maturity of the Singapore Data Centre market and support from the government, which spearheaded the creation of the Singapore Data Centre Park, recently renamed Tanjong Kling. The location in the West of the island has ready-built infrastructure such as the dedicated substations for ensuring a reliable power supply as well as prebuilt fibre ducts to ease service provisioning and connecting new fibre networks to data centres.
When looking to provide digital products and services to the Indonesian market specifically, Singapore's geographic proximity also provides a benefit to latency. Furthermore, the country also has a large technically skilled talent pool with a range of language abilities to cater to foreign companies looking to enter the region.
Choosing the Ideal Data Centre Partner
Choosing the location for your data centre is only one part of the decision, the second is choosing the provider that's best suited to your needs. Fortunately, the aforementioned survey by 451 Research also quizzed respondents regarding their criteria for selecting a third-party data centre service provider, which are:
Latency of network connectivity
Comprehensive service portfolio
Proven track record selling to enterprises
Customer support
Personalized space
When it comes to network connectivity, it's important to remember that Indonesia is of course a dispersed archipelago, and as a result, not every data centre or telco is able to offer fast connectivity across the entire country. This risks either reducing your company's reach or negatively impacting your connectivity speed. This can result in longer page load times, slower transactions and an overall lower customer experience which can drive customers away. As a result, partnering with a company that can guarantee the fastest and most extensive connectivity across the whole of Indonesia needs to be your top consideration.
Another factor to consider is the ability to quickly, easily and cost effectively scale to match your company's growth requirements. With traditional data centres, from the day of launch, they tend to fill their centre with IT infrastructure, which increases their initial costs and forces them to offer inflexible pricing models that only offer, for example, 50 racks minimum. This can prove an expensive barrier to entry, particularly for companies that start small. Yet at the same time, if your company expects a rapid growth in service demand, you also need a data centre provider who can rapidly accommodate to changes.
If these priorities match your own, one major data centre provider to consider is Telin Singapore, whose Telin-3 Data Centre is like a virtual data centre to Indonesia. In case you did not know, Telin's parent company Telkom Indonesia, is the leading Indonesian telco with 70 per cent of the market share. Thanks to this partnership and their proprietary-owned, seamless submarine cables connecting Indonesia, Singapore and the rest of the world, Telin-3 can provide your company with the lowest latency connectivity across all of Indonesia.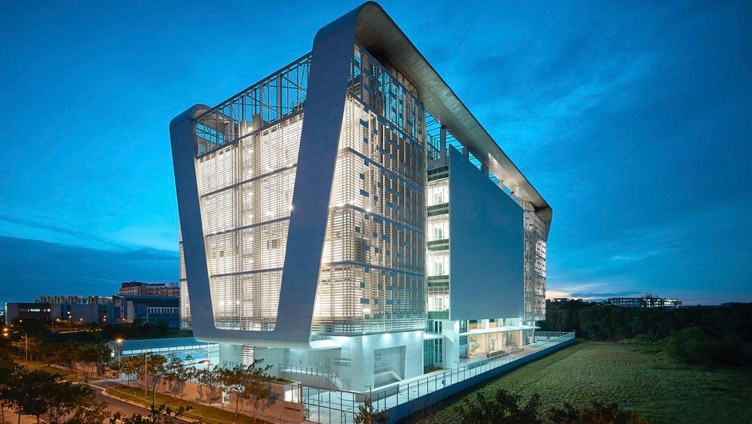 Image: The Telin-3 Data Centre in Singapore
Another unique proposition offered by Telin-3 is its ability to grow and scale its computing power and storage in line with its customers' needs. For example, the IT infrastructure within Telin-3 is modular and waiting to be built in phases, meaning that it can grow with its customers' needs and offer more flexible and competitive terms. Furthermore, thanks to software defined networking (SDN), the provision of power and space is automated, meaning that Telin-3 is truly built for scalability and flexibility unlike other providers.
It's also important to ensure that you partner with a company with a proven track record and expertise. Telin Singapore is part of the PT Telkom Group, Indonesia's leading ICT service provider and second largest telco in South East Asia. The company's shares are traded on the Indonesia Stock Exchange and the New York Stock Exchange. As a result, Telin Singapore has to undergo rigorous audit and compliance requirements. In addition to this, the Telin-3 data centre is UTI Tier IV certified, meaning it guarantees the highest level of uptime and resilience.
If you are looking to expand your digital products and services into Indonesia, Telin Singapore's data centre facilities can offer you unrivalled connectivity, scalability, reliability and customer support to meet your company's needs.
To learn more about the Telin-3 data centre and how it can help your company offer digital products and services in Indonesia, click here
This article was originally published on CIO Asia.
Sources:
https://www.adb.org/countries/indonesia/economy#tabs-0-0
http://jakartaglobe.id/news/half-indonesians-internet-users/
http://www.straitstimes.com/asia/se-asia/all-eyes-on-indonesias-e-commerce-pie