24 September 2018, Singapore – Telekomunikasi Indonesia International Pte Ltd (Telin Singapore), a wholly-owned subsidiary of PT Telkom Indonesia (Telkom), and Campana Group, announced a strategic partnership to offer the fastest and most reliable Internet connection between Myanmar and Singapore. The partnership will also reinforce Singapore's status as an Internet hub.
Campana Group is currently building the Singapore-Myanmar Submarine Cable (SIGMAR) to connect Myanmar directly to Singapore, with an optional branch to Thailand. Telin Singapore will provide a pre-laid shore-end, local connectivity, and landing station in Singapore, and support for permitting in Indonesian waters, which significantly reduces the time to market for this project.
The SIGMAR project is a platform to deliver Cloud services and Infrastructure as a Service (IaaS) to the Myanmar market. The project is scheduled to be ready for service in 2020.
The project will be Campana Group's first infrastructure partnership in Singapore. It will also enhance Telin Singapore's Internet coverage to Myanmar, where Campana has a licence to offer a full suite of wholesale and B2B services via its own International Gateway.
"Campana is delighted to be partnering with Telin Singapore in this venture. With an extensive track record in submarine fibre optic cables, Telin Singapore is an ideal partner for Campana. We are looking forward to developing the partnership further in the future," said Dr. Myo Ohn, CEO of Campana Group.
"This strategic partnership with Campana Group will strengthen our commitment with SIGMAR as an additional international link to provide low latency and seamless connectivity across the region. With Campana's strong presence in Myanmar and Thailand, we are confident to meet the increasing demand for bandwidth, colocation, and critical IT infrastructure services in this region," said Andreuw Th.A.F, CEO of Telin Singapore.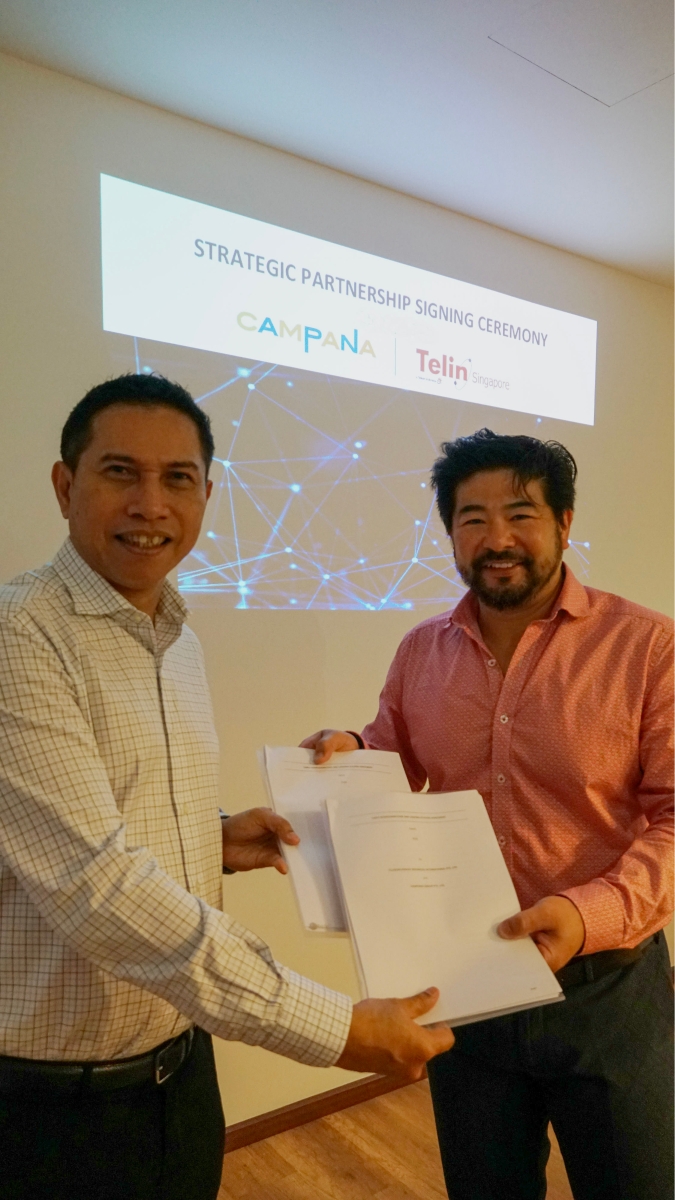 --- END ---
About Campana (http://www.campanaworks.com)
Campana Group Pte. Ltd., a Singapore-registered company, is the owner and operator, through its subsidiary companies, of an international terrestrial and submarine telecommunications network connecting Campana PoPs in Myanmar, Thailand, and Singapore. Over this robust platform, Campana provides Cloud Services and Infrastructure as a Service (IaaS), as well as open access to licensed operators delivering wholesale bandwidth and IP services.
For more information, please contact: info@campanaworks.com.
About Telin Singapore (http://www.telin.sg)
Telin Singapore, part of the PT Telkom Indonesia (Telkom), is a preferred ICT gateway provider to Indonesia and beyond. Telin Singapore connects businesses with its customers, partners and employees globally through flexible, modular and scalable data centres in Singapore. Telin Singapore's enterprise-grade data centre facilities deliver ICT solutions that are scalable and flexible to fit any customer's needs. It has seamless connectivity to the group Data Centre in Indonesia and is also backed by proprietary-owned, seamless submarine cables connectivity from Indonesia to the rest of the world.
For more information, please contact: info@telin.sg.
For media enquiries, please contact:
Telin Singapore

Jess Nyew

T: +65 6278 8189 ext. 2235

Hill+Knowlton Strategies

Jimson Seah

T: +65 6390 3319

Campana Group Pte. Ltd.

Thomas Loh

T: +65 9628 0102

Campana Mythic Co. Ltd.

U Min Aye

T: +95 (0)9 402 597 824