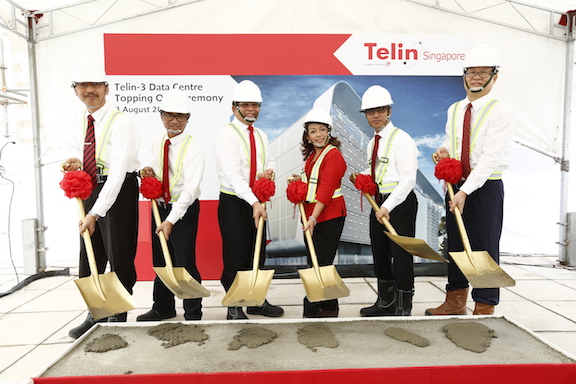 (From left to right) Mr Abdus Somad Arief, CTO of PT Telkom Indonesia, Mr Faizal Rochmad Djoemadi, CEO of Telin Group, Mr Alex J Sinaga, Group CEO, PT Telkom Indonesia, Ms Septika N Widyasrini, CEO of Telin Singapore, Mr Honesti Basyir, CMO, Wholesale and International Business of PT Telkom Indonesia and Mr Daniel Thien, COO of Telin Singapore, at the topping out ceremony of Telin-3 data centre in Singapore Data Centre Park, on Wednesday, 3 August 2016.
With the topping-out of the five-storey purpose-built, multi-tier data centre, Telin-3 is targeted to be operational by end of 3Q 2016.

Telin-3 will be well poised to providing reliable, secure, tailored and cost-effective data centre solutions for large enterprise customers including Telcos, IT & Content Providers and Financial Institutions
Singapore, 3 August 2016 – Telin Singapore, a subsidiary of PT Telkom, has achieved a key milestone with completion of the main structural works for its third data centre in Singapore branded as Telin-3. With topping out of the 20,000–square-metre, five-storey building, this new generation data centre is targeted to be operational by end of the third quarter this year.
Speaking at the topping out ceremony, Mr Alex J Sinaga, Group CEO of PT Telkom, commented: "We are pleased to celebrate this significant milestone today. It is with much excitement for Telkom Group as Telin-3 is one of the largest investments that PT Telkom has made in Singapore, which serves as an important regional hub for us. Telin-3 is therefore a pivotal launchpad in line with the Group's strategic efforts to catapult PT Telkom into the global market."
Telin-3 is located in the west of the island at the Singapore Data Centre Park— a joint initiative by the Singapore Infocomm Development Authority (IDA), Economic Development Board (EDB) and Jurong Town Corporation (JTC) to strengthen Singapore's position as an economic and infocomm hub.
"The design intention and philosophy of Telin-3 will be able to deliver full suites of data centre solutions with the highest standard of service delivery, modularity and agility to meet various customers' requirements," said Ms Septika N. Widyasrini, Telin Singapore CEO. "It will enable data-centric enterprises to accelerate digital transformation in today's increasingly competitive market and helps them to manage the Total Cost of Ownership.
The facility is a purpose-built data centre, adopting multi-tier design in its system. This feature provides flexibility and modularity to customers, enabling them to select from a variety of tier ratings based on their business requirements. Telin-3 is Singapore's first and only Tier-IV design certified data centre.
-END-
About Telin Singapore
Telin Singapore, a subsidiary of PT Telkom Group, is the data centre provider of choice through best-in-class, integrated solutions. Telin Singapore currently manages flexible, modular and scalable data centre facilities in Singapore that are enhanced by proprietary- owned, seamless submarine cables connectivity from Indonesia and Singapore to the rest of the world. Telin Singapore's Tier III & Tier IV certified data centre facilities embrace the company's commitment to deliver world-class ICT solutions that are scalable and flexible to fit any customer's needs.
For more information, please visit www.telin.sg.
For media enquiries, please contact:
Telin Singapore
Jess Nyew
T: +65 6278 8189 ext. 2235
E: jess.nyew@telin.sg
Weber Shandwick Singapore
Indra Gurung
T: +65 6825 8037
E: igurung@webershandwick.com