January 17, 2018 Singapore – Telekomunikasi Indonesia International Pte Ltd (Telin Singapore), a wholly-owned subsidiary of PT Telkom Group, and Super Sea Cable Networks Pte Ltd (SEAX), announced a strategic partnership to offer high capacity, low latency domestic network solutions in Singapore today.
The partnership will help regional operators enjoy a more diverse footprint in Singapore whilst meeting increasing demands for bandwidth in the region. With SEA Cable Exchange-1 (SEAX-1) landing in Tanah Merah (Singapore) coupled with Telin Singapore's scalable, diverse and protected dark fibre ring connecting between Telin Singapore's carrier neutral Data Centres and carrier hotels in Singapore, operators will enjoy seamless connectivity in the region.
Scheduled to launch in Q1 2018, SEAX-1 is a 250km high-speed, large capacity, 24-fibre pair undersea fiber optic cable that will connect Mersing (Malaysia), Changi (Singapore), and Batam (Indonesia).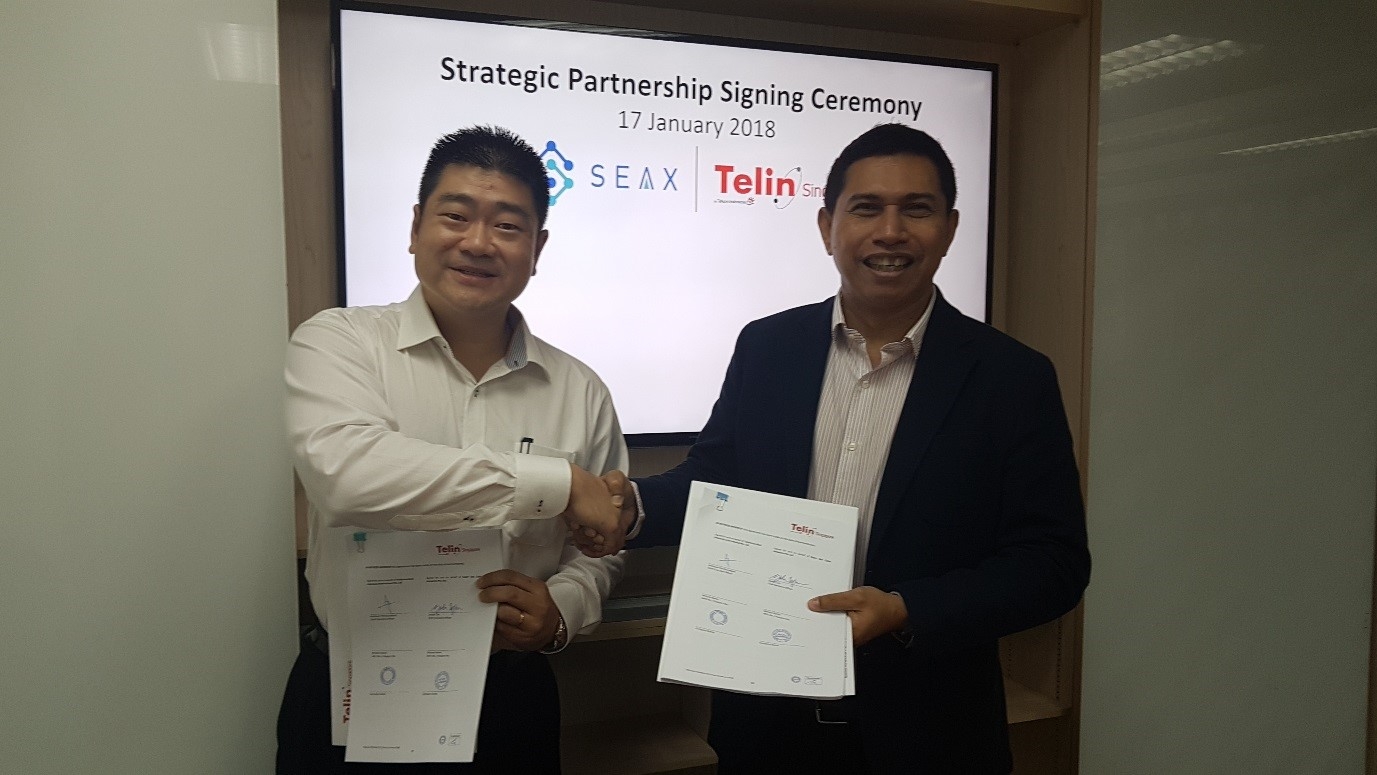 Andreuw Th.A.F, CEO of Telin Singapore (right), and Joseph Lim, CEO of Super SEA Cable Networks (left) at a signing ceremony of the strategic partnership.
With SEAX-1 landing in Telin-2 and Telin-3 Data Centres, Telin Singapore's flagship Data Centres coupled with virtual Data Centres connect to Indonesia and regional countries to provide digital products and services.
"SEAX is pleased to partner with Telin Singapore in providing our customers with high-capacity submarine cable connectivity to implement its plan to be one of the leaders in ASEAN to establish an ASEAN broadband corridor. This is in line with the ASEAN Co-operation's ICT focus, which is expected to be an engine of growth for the region. The partnership with Telin Singapore, a member of Telkom Indonesia Group, is a step closer to realising this," said Joseph Lim, CEO of Super Sea Cable Networks Pte Ltd.
"This strategic partnership with SEAX will enhance our capabilities at Telin-3 Data Centre and Telecommunication Hub offering both seamless domestic and global connectivity for our customers. This will also strengthen our commitment to provide reliable, secured and seamless regional and global telecommunications connectivity services to meet the increasing demand for bandwidth capacity, colocation and critical IT infrastructure services in this region," said Andreuw Th.A.F, CEO of Telin Singapore.
—END—
About Super SEA Cable Networks Pte. Ltd. (http://www.seacablex.com)
Super Sea Cable Networks Pte. Ltd. (SEAX) is a telecommunication based infrastructure company focused on creating a paradigm shift in how wholesale telecommunication data business is done in the emerging markets in South East Asia (SEA). SEAX's commitment to bring an unprecedented amount of submarine cable capacity into the region and vision to facilitate submarine cable system ownership amongst carriers will undoubtedly act as a catalyst of change and economic growth in the region. The SEAX group holds licenses for the operation and ownership of submarine cable and terrestrial backhaul in Indonesia, Malaysia and Singapore which enables SEAX to offer an end-to-end seamless connectivity solution from PoP to PoP in each of these countries.
For more information, please contact: info@seacablex.com.
About Telin Singapore (http://www.telin.sg)
Telin Singapore, a subsidiary of PT Telekomunikasi Indonesia, is the data centre provider of choice through best-in-class, integrated solutions. Telin Singapore currently manages flexible, modular and scalable data centre facilities and domestic fibre network in Singapore that are enhanced by proprietary-owned, seamless submarine cables connectivity from Indonesia and Singapore to the rest of the world. Telin Singapore's Tier III & Tier IV certified data centre facilities embrace the company's commitment to deliver world-class ICT solutions that are scalable and flexible to meet any customer's needs.
For more information, please contact: info@telin.sg.
For media enquiries, please contact:
Telin Singapore
Jess Nyew
T: +65 6278 8189 ext. 2235
E: jess.nyew@telin.sg
Hill+Knowlton Strategies
Jimson Seah
T: +65 6390 3319
E: jimson.seah@hkstrategies.com
Super SEA Cable Networks
Natalie Kang